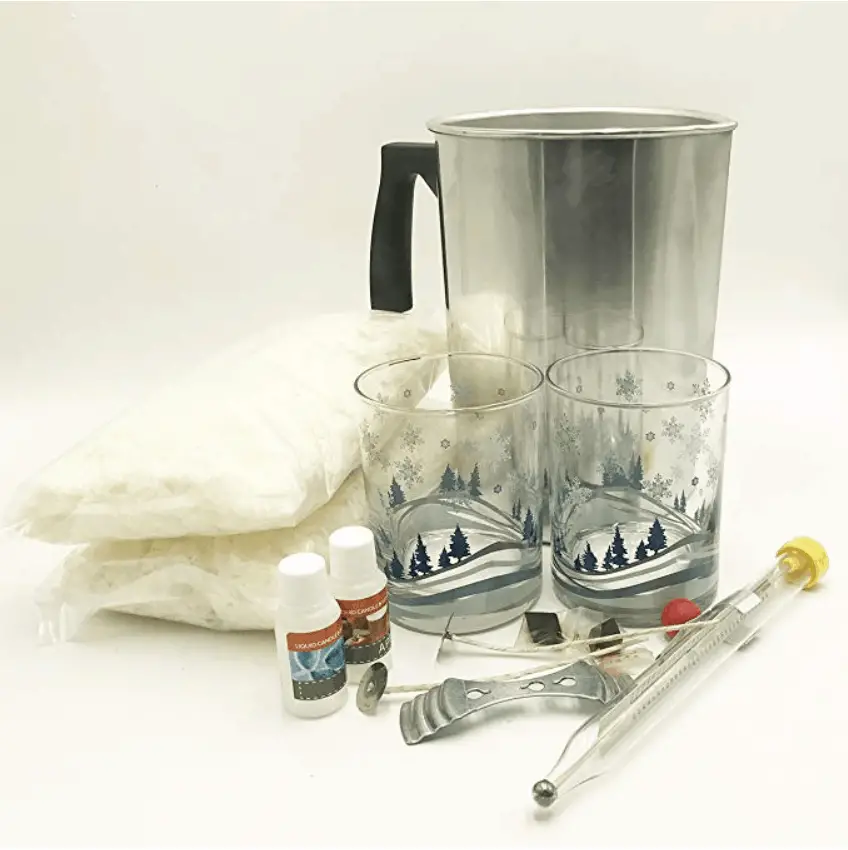 When I started to get interested in candles about 4 years ago, I was only decorating them and hadn't yet started making my own. Then, the following year, I decided I wanted to take the plunge into making my own candles.
I decided that a starter kit was probably the best option. There are many candle-making kits out there. Most of them come with all of the equipment and supplies you would need: pitcher, thermometer, wax, containers, wicks, wick holders, wick stickers, dye, fragrance, and safety stickers.
Candle-making is a great hobby to get into, because they make great gifts for friends and family or it can become a business that earns you extra income.
Why this Candle-Making Kit?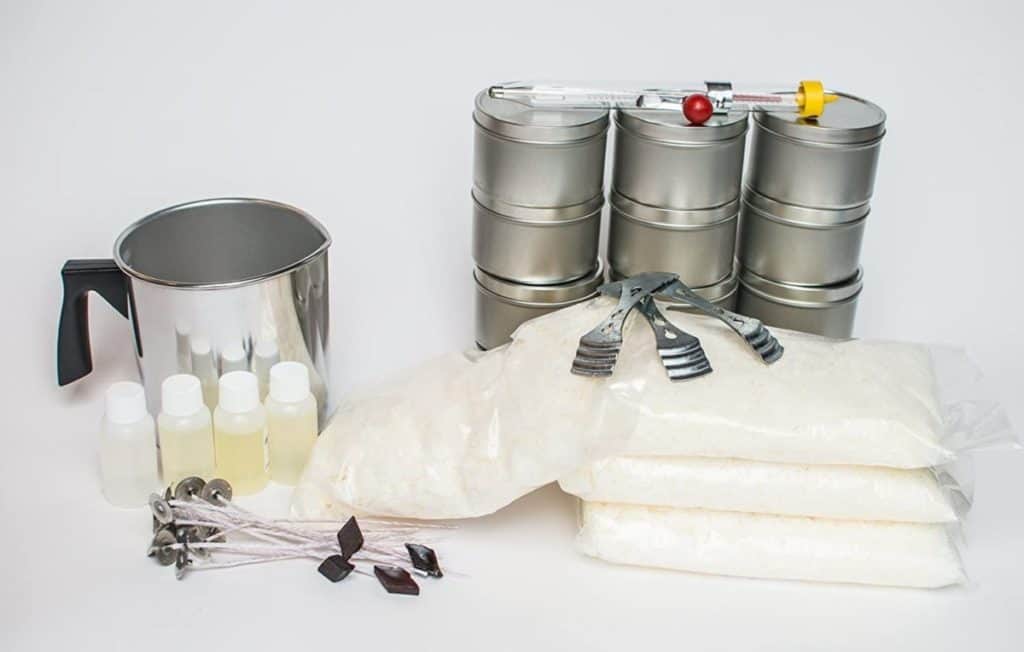 The candle-making kit I started with was this one from Amazon. It is a 100% soy wax candle-making kit by CandleWic. CandleWic is a well-known and reputable candle company that provides information and also sells candle-making supplies through their website candlewic.com.
Soy wax is the best wax to get started with when you are first learning candle making. It is easy to work with and it works well in many types of containers.
This candle-making kit is also fairly inexpensive, so it is affordable for anyone to get started.
What is Included in the Kit?
The picture provided on Amazon is different than what you may actually get in your package. The product listing on Amazon are always changing and the kit can be packed differently from season to season.
For example, I received 12 tin containers, rather than the 2 glass jars pictured. I got 12 (twelve) 8-oz. candle tins, rather than just the two glass jars in the picture, which I was happy with, because I think I got more bang for my buck.
Another difference is that I actually received 4 different types of fragrances, 4 different dye (color) chips, and 4 (four) 1-lb. bags of wax. Therefore, the entire kit made a total of 12 candles, 3 of each of the 4 different types (fragrance/color).
This candle-making kit was "winter-themed," so the fragrances provided were based on that season. There is a kit for each season of the year and I would assume that the fragrances included in each of those kits would correspond nicely to each of those seasons, as well.
The kit came with a pouring pitcher, a thermometer, wicks, wick stickers, and wick holders. There is also an instruction guide included, which has detailed and easy-to-understand directions, along with pictures to help.
What is Not Included in the Kit?
The instruction guide recommends using the double boiler method to make your candles. This is a great method to get started with when you are first learning about how to make candles.
For the double-boiler method, you will need a large pot or saucepan, which you will add water to and put the pitcher of wax in. This pot for the double-boiler method is not included in the kit.
Part of the process of candle-making requires stirring the liquefied wax to help melt the wax and disperse the dye and fragrance when they are added. A stirring rod is not included in the kit, but you can use a long-handled spoon or skewer stick to do the job.
I'd like to share one piece of advice regarding stirring, which I learned through research and was not included in the instruction guide. It is suggested that you do not use a whisk or large spoon to stir the wax, because it creates air bubbles. Also, it is best to use a metal device, rather than a wooden spoon or skewer, which will absorb the dye.
The last thing that is not included is something to trim the wick when you are finished. A simple scissors works well enough, but there are actual wick-trimmer devices that are sold.