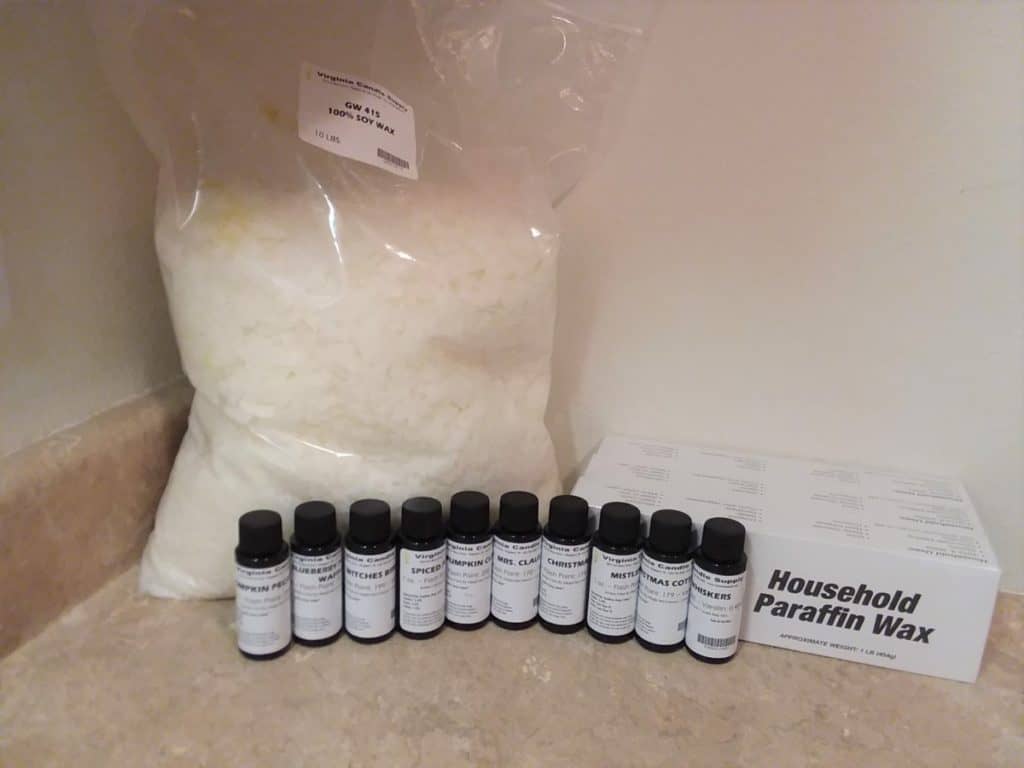 After purchasing my first candle-making kit and using up the product, I found that I needed to find more products to order, specifically the wax, wicks, dye, and fragrances.
Waxes
So far, I have tried 3 types of waxes: soy, paraffin, and palm. I would like to eventually try coconut wax, as well.
Soy
I ordered this wax from CandleWic on Amazon. This is a 3-pound bag of soy wax. That was quickly used up, so I decided I needed to order a larger amount.
So, I got a candle-making kit from Virginia Candle Supply on Amazon, that included 10-pounds of soy wax, wicks, wick stickers, dye, and fragrance. It did not include a pitcher, thermometer, or wick holders, which was okay with me, because I already had these items from the first candle-making kit I had ordered.
I was not able to find the same kit that I had ordered on Amazon. But I found this 10-pound bag of soy wax, which is pretty much the same thing I got in the VCS kit.
Palm
After experimenting with soy wax, I decided I wanted to try out other waxes, as well. I ordered a palm wax candle-making it. This was another CandleWic brand kit that I found on Amazon. It appears to be currently out of stock. But, I did find this similar kit from Hearts and Crafts.
Paraffin
After making many container candles and constantly buying pre-manufactured pillar candles for my decorating projects, I decided I wanted to try to make my own pillar candles. I knew I had to use a hard wax, such as paraffin or palm.
I bought this 3-pound pack of paraffin wax from Amazon, just to try it out to see if I liked it.
Then, I decided to get a larger size, so it would last longer and I would get a better value, rather than paying more for smaller sizes all the time. I bought a 10-pound slab of IGI 4625 from CandleScience. I found a similar item on Amazon.
Fragrances
The wax works great and the kit included a variety of dye colors and fragrances. This kit lasts a long time and you get plenty of fun candle-making from it!